AK_Lydia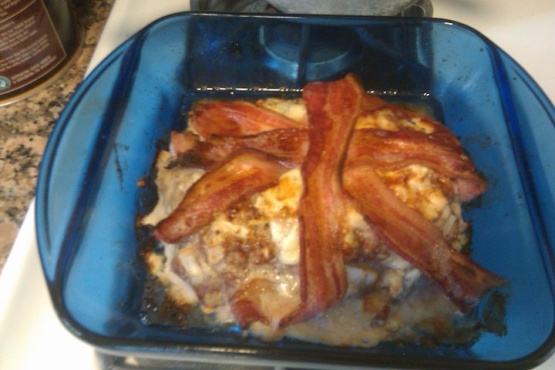 My family loves blue cheese - my husband will even eat it right from the container! One night, I was looking for a new way to use ground beef and this is what I came up with. It's now our favorite winter comfort food. We like to serve it with Parmesan Cous Cous.

I have always hated (yes, Hated) meat loaf. Boring, mushy and what's w/that ketchup?
Trying to save a buck and loving Blue Cheese, I stumbled upon this recipe. WOW!! It's soooo delicious, easy to make and inexpensive. I have made it 3 times already and each time I just add a bit more blue cheese! It is fantastic with a small salad and hot crusty bread!
Combine 1 cup bread crumbs and 1/4 cup crumbled blue cheese.
Add ground beef, egg, onion, salt and pepper.
Blend thoroughly.
Shape into a round loaf.
With a spoon, make a crater-like depression in top of loaf.
Fill depression with Blue Cheese Dressing.
If desired, sprinkle more crumbled blue cheese on top.
Bake at 350 for 1 hour.