Hey Jude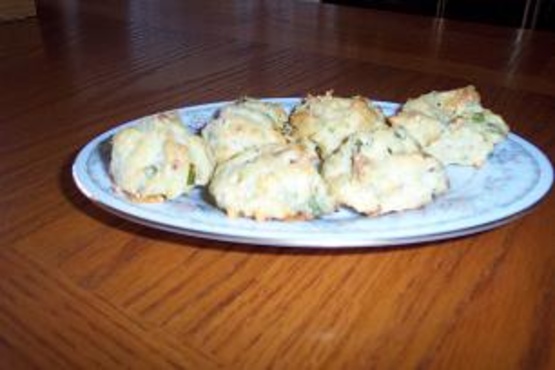 I have not cooked these myself, but have eaten them. They are great. They were brought by a friend to an office party and, of course, we all had to have the recipe.

WONDERFUL!!! I made these today and tried them out on friends and everyone loved them - even the kids. I was worried about the whole puff thing but the recipe went together perfectly without any problems. I used my small cookie scooper to drop them on the baking sheet and that made nice uniform puffs. I baked them at 375 in a convection oven and it took exactly 20 minutes for them to be perfectly done. One note - their taste actually improved as they sat rather than eating them right out of the oven. So I'm thinking it will be a good make earlier in the day appetizer. They are on the menu for our next gourmet dinner club night! Thanks for sharing!
Bring water and butter to a boil over med.
heat.
Stir in flour, salt and peppers with a wooden spoon until mixture leaves the sides of pan and forms a soft ball.
Remove from heat.
Beat in eggs, one at a time.
Add Cheese, onion& bacon.
Dip by teaspoonful onto a lightly greased cookie sheet.
Bake@ 400 F for 20 to 25 minutes.