Blue Cheese Asparagus Rollups
Bergy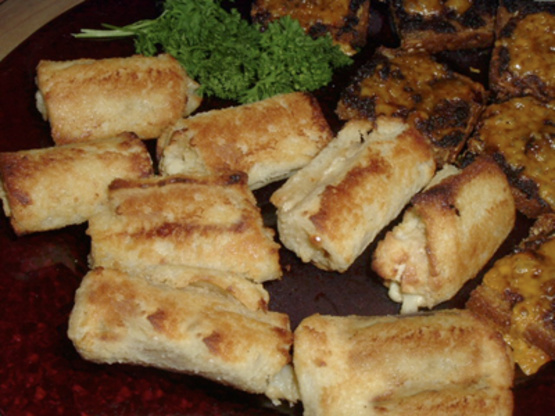 These are lovely appetizers to serve and so easy to make and not too expensive ingredients. You may freeze them before baking just allow a little longer in the oven when baking from the frozen state. I have just made these again using square white sandwich bread. I needed 25 slices of bread, put a generous tbsp of the filling on each, cut them in two and ended up with 50 appies. If using the sandwich bread you will need few extra asparagus but most aaparagus are longer than the slice of bread so you get 1 1/2 from most spears

I have served this appetizer in the past and EVERYONE loved it! It is relatively easy to prepare and oh, so good! I also used canned asparagus which made the dish much less time consuming. It was still good. Next time I will try using the fresh. It's becoming difficult to find a good white bread so I think the next time I fix it I will go to our local bakery and see what I can find. Thanks for reminding me of this winning appetizer!
Flatten each slice of bread with a rolling pin so it is less than 1/4" thick.
Mix Blue cheese, worcestershire sauce, beaten egg, cream cheese and seasonings.
Spread the mix on each slice of bread.
put an asparagus spear at the edge of each slice and roll up like a Jelly roll.
Coat the outside of each roll with butter.
Cut each roll into 3 pieces.
Place, seam side down, on a cookie sheet and bake for about 20 minutes, 375°F.
Turn over to the other side after about 10 minutes.
The rolls should be nice and golden.