Blue Cheese and Cheddar Scalloped Potatoes
lazyme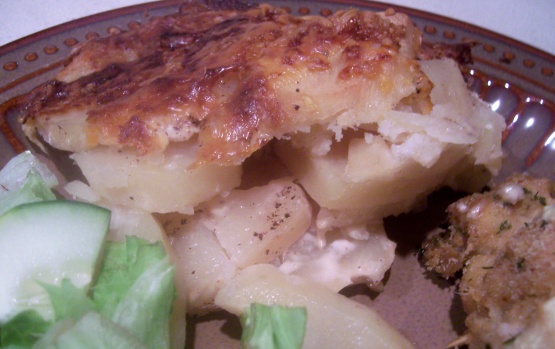 Tangy blue and sharp cheddar cheese combined with potatoes in a rich, creamy sauce.

Top Review by lazyme
Yum! These are really good and they smell wonderful while they are cooking. I used my mandoline to slice the potatoes since I'm such a klutz otherwise and they cooked evenly throughout. The blue cheese adds a great flavor to this gratin. Thanks Nick's Mom.
Preheat oven to 375.
Rub garlic and butter over inside of 13x9-inch baking dish.
Add cream, milk and nutmeg to saucepan; bring to simmer.
Arrange potato slices in 1 layer in dish. Season with salt and pepper. Repeat layering with remaining potatoes, seasoning each layer with salt and pepper.
Pour cream mixture over potatoes. Sprinkle with cheese.
Bake until potatoes are tender and top is deep golden, about 1 hour 45 minutes.
Cool slightly before serving.