-Sylvie-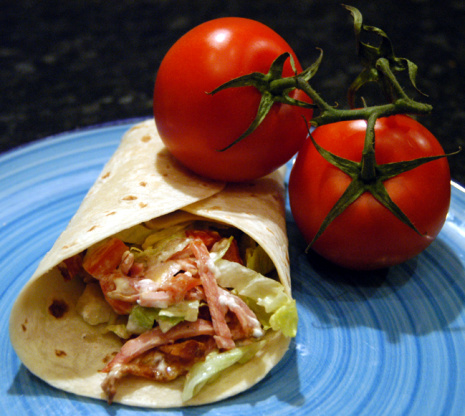 We will whip these up sometimes just for a bit of a change in the traditional. Sometimes I will make the BLT mix up before leaving for the ballpark so that when we get home all we have to do is throw them together and EAT!! Prep time includes frying bacon.

Top Review by Merlot
This is a GREAT idea! I mixed all the ingredients early in the day (except for the shredded lettuce). Then at supper time, I added the shredded lettuce and a little more mayo then rolled them up in the wraps. What a great "make-ahead" sandwich. Thanks for sharing this. :-)
Place bacon, lettuce and tomato in large bowl, add enough mayo or Miracle Whip to"wet" all ingredients together.
Salt and pepper to taste.
Place a"generous" portion of BLT mixture onto tortilla, as if you were making a burrito.
Wrap and Roll-- your ready to go!
NOTE: Sometimes the kids will request shredded cheese in their mixture so I just divide into two mixes, one with shredded cheese, one without (I am not one to fool with a classic like a BLT by putting cheese on it).