Boomette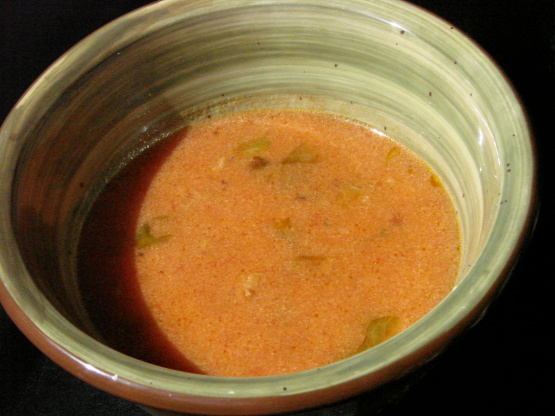 I really love BLT sandwiches so I thought this would be a nice change for the cold days.
I needed to use some half and half cream and when I saw this recipe, I was curious to try it. It turned out very tasty. It's very easy to do. I didn't have ham bouillon cube so I used only chicken. I got tomato puree that I had to use from yesterday so that was perfect. Great taste and texture. Thanks for posting this recipe :) Made for Bargain Basement tag game
In a large stockpot, saute bacon until lightly brown. Do not drain the fat. Add butter and heat. Stir in lettuce and saute for 2 minutes. Add flour mixing well and saute 2 to 3 minutes. Remove from heat and slowly stir in hot water, chicken and ham bouillon cubes, tomatoes, nutmeg and cayenne pepper. Heat to boiling. Reduce heat and simmer for 6 to 8 minutes, stirring occasionally. Add half and half and heat to simmering. Garnish and serve.
Garnish: bacon crumbles, cherry tomato slices or buttered croutons.