BLT Salad With Creamy Basil Dressing
Parsley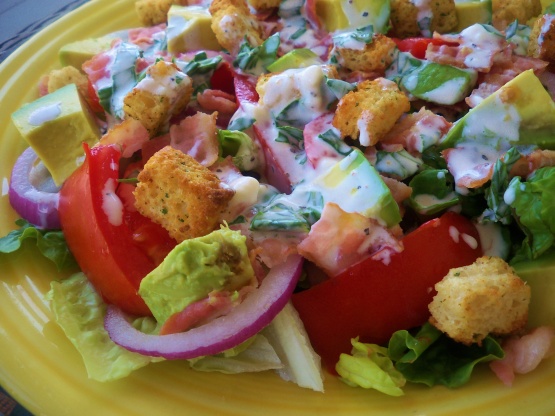 From Canadian Living magazine. All the flavours of a favourite sandwich tossed together on a plate makes this just as popular when it's a salad.

This is very good. I used more romaine than the recipe called for as I like lots of lettuce. I used less tomatoes as i inadvertently ate most of my tomatoes. I mixed up dressing and served a drizzle over each serving when needed.
Dressing: In a bowl, whisk together basil, yogurt, mayonnaise, vinegar, salt and pepper. Set aside.
In a skillet, cook bacon over medium-high heat for about 7 minutes or until crisp. Drain on paper towels.
Meanwhile, cut baguette diagonally into 12 slices. Broil on a baking sheet, turning once, for about 1 minute or until golden. Rub both sides with cut sides of garlic. Arrange in serving basket.
Cut tomatoes into 1/2 inch thick wedges. Peel, pit and cut avocado into 1/2 inch cubes.
In a large bowl, toss together lettuce, onion and half of the dressing; arrange on large plates. Top with tomatoes and avocado; spoon remaining dressing over top. Sprinkle with bacon. Serve with garlic toasts.