BLT Salad With Avocado Dressing
packeyes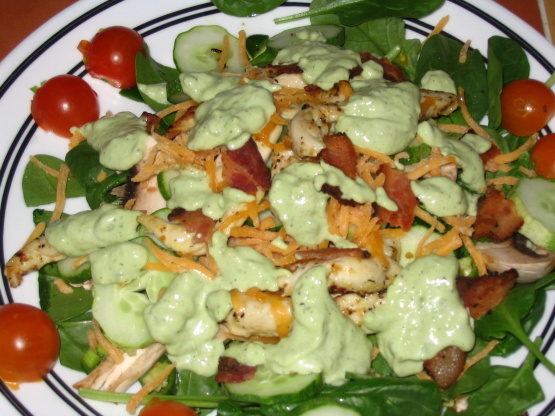 I love Tomatoes and I love Avacado's. This salad is delicious and best when Tomatoes are in Season. I am always looking for recipes to use my bumper crop of Tomatoes in the Summer and this one is so easy to pull together. You could add some Grilled Chicken for a main course.

Very good change-up in our dinners. I grilled chicken seasoned with lemon-pepper seasoning to put on top of salad. I added some more veggies from the garden to the salad and put cheddar cheese on it. We used the remaining dressing on tortilla chips with salsa. Very nice dinner!
In Food Processor, combine all dressing ingredients; beat at low speed just until smooth.
Cover and refrigerate for several hours to blend flavors.
At serving time, arrange salad ingredients on 6 individual plates or toss in large salad bowl.
Serve with dressing.