Ingy1171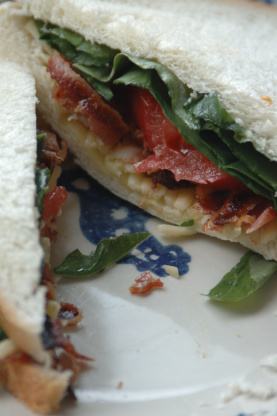 We had a couple of home grown tomatoes, and what is better than BLT's on a hot summer night? I didn't want same old sandwich, so I came up with this one. We love roasted garlic. You can use more or less or not at all, to your taste.

very Tasty and a nice spin on it with the roasted garlic and spinach! Thanks
Toast buns in oven till crispy.
Spread roasted garlic over both insides of buns, then spread on the mayonnaise.
Put on spinach leaves and lettuce leaves, four each per bun.
Next add the tomato slices, salt and pepper to taste.
Sprinkle the feta cheese over tomatoes, top with the bacon.
Close up the sandwich, press it down a little to keep everything in, cut in half, and enjoy.