diner524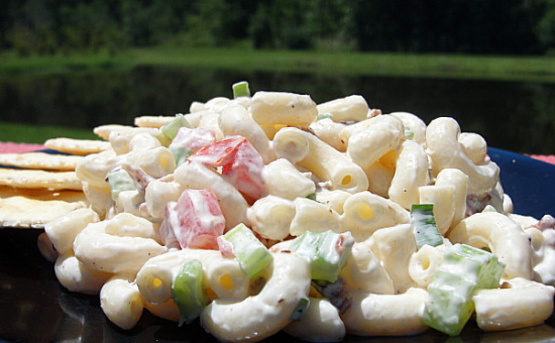 My DH always raved about my mom's pasta salad until I found the inspiration for this recipe in TOH June 2002. Now he doesn't like it any other way. I have modified the original recipe over the years & now need to post it here for safe-keeping because the clipping is falling apart. UPDATE: May 2010 - I'd like to add that this recipe has now been tested with gluten free pasta and turkey bacon and was just as delicious as the posted recipe. Keep in mind though that a little extra mayo was needed with the GF pasta. :)

Cut this down to about 3 servings for DH and I and followed the directions except for adding a little minced carrot and some fresh basil...delicious! DH said "I didn't expect macaroni salad like this but it is really good. Make it again." Thank you. Made for Think Pink October 2010.
Boil pasta per package directions, then drain & rinse in cold water.
While pasta is cooking, trim most of the fat from the bacon, chop into 1-inch pieces & then panfry til almost crisp; drain on paper towels & set aside.
In large bowl, combine mayo, vinegar, salt, pepper, celery, onion & bacon.
Gently stir in tomato, & pasta.
Cover tightly & refrigerate til serving.
*Note: Original recipe reserves bacon to add right before serving. I've done both but usually mix it immediately to save time.