BLT Fried Egg-And-Cheese Sandwich
BecR2400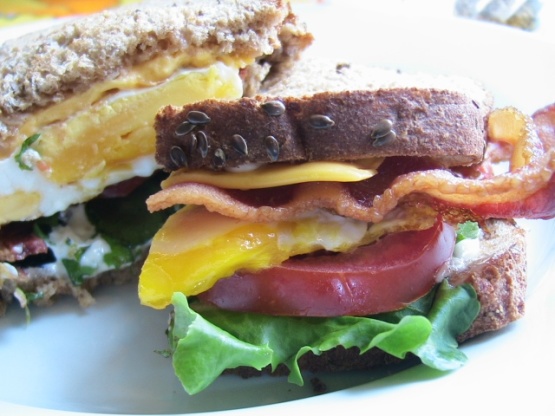 Thomas Keller's scrumptious recipe combines three of the world's most popular sandwiches—bacon, lettuce and tomato; fried egg; and grilled cheese.

What could be better than a warm sandwich when you decide not to make dinner... (hubby is in the 'dog house' tonight). Thanks for the reminder of a classic sandwiich. I've been making them this way all of my lifetime (but I skip the tomatoes). Just ate one after reading your post. YUM! Thanks a lot, hun. :) Oops... I forgot to say that I do break the yolk while frying (personal preference), and I use "sour-dough" bread, and "white farm house cheddar" cheese. This is the perfect "some-what" grilled cheese sandwich +PLUS! (I still prefer the pan with butter method, but this is a lot quicker). Thank you for reminding me that "simple" is sometimes better! I will make this variation again :)
In a skillet, cook the bacon over moderate heat, turning, until crisp, about 8 minutes. Transfer to paper towels to drain.
Set the Monterey Jack slices on 1 piece of toast. Spread the mayonnaise on the other slice of toast, then top with the bacon, tomato and lettuce.
In a small, nonstick skillet, melt the butter. Add the egg and fry over moderate heat, turning once, until crisp around the edge, about 4 minutes; the yolk should still be runny. Slide the egg onto the lettuce; close the sandwich and eat right away.