I'mPat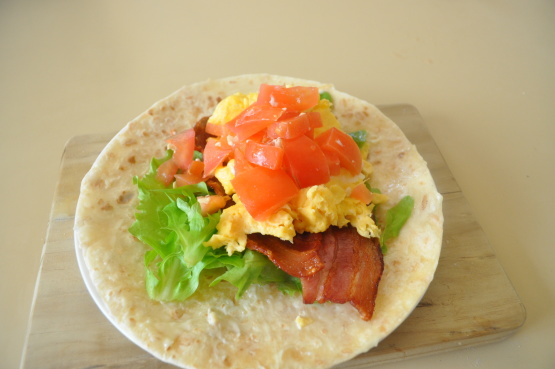 This is a quick and easy, and also delicious, breakfast meal, and also something that the kids will love!!

Top Review by I'mPat
I made two of these delicious wraps for the DM and myself which we both thoroughly enjoyed as a light lunch. I used wholemeal wrap and cooked my bacon in the oven and used freshly picked lettuce from the garden and vine ripened tomato. Thank you Chef mariajane, made for Bargain Basement.
Cook bacon in non-stick skillet over medium heat, or in microwave until crisp; fold in half and set aside. Wipe skillet clean.
Whisk together egg, onion powder, salt and pepper, in small bowl. Pour mixture into skillet; cook stirring slightly over medium heat. As mxture begins to set, gently move spatula across bottom and sides of skillet to form large, soft curds. Cook until eggs are thickened and no visible liquid egg remains but are still moist.
Spread tortilla with mayonnaise. Place lettuce on top. Add bacon, egg and tomato.
Fold wrap and serve.