BLT Chicken Salad With Ranch
Boomette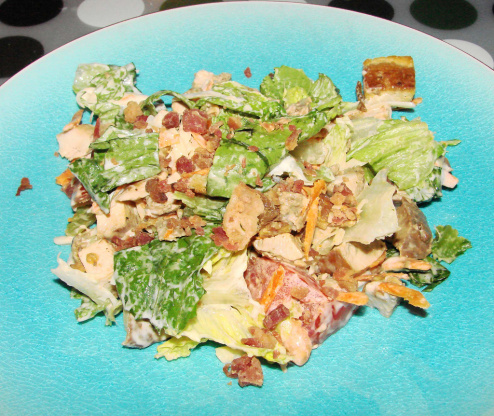 I wanted something simple and fresh for dinner and I threw this together with what I had on hand. If you don't have pre-cooked chicken on hand just throw a couple of breasts in a baking and sprinkle with Rotisserie Seasoning. Bake at 350 degrees or until done.

Top Review by KateL
Delicious, even kept well in the refrigerator for 4 days, despite the lettuce. This recipe made about 4 quarts of salad as I understood the ingredients listing: 8 oz dry spiral pasta, and 1 romaine bunch. I used 1 packet of ranch dressing (4 tsp) instead of 2 tablespoons, and I think that was enough. DH normally won't touch ranch dressing, but enjoyed seconds of this salad. This would be great to take to a potluck, although I would only mix in romaine at the time of eating to maximize the crunch from the romaine. I had given my chicken breasts the "full treatment": brined in salt water for 1 hour, then marinated in olive oil with salt and pepper for 2 hours prior to grilling. Thanks for sharing this recipe, 2SpiceItUp. Made for Gailanng's "It's All About Salads Party" in Potluck Tag.
Combine all ingredients and chill until ready to serve.