DuChick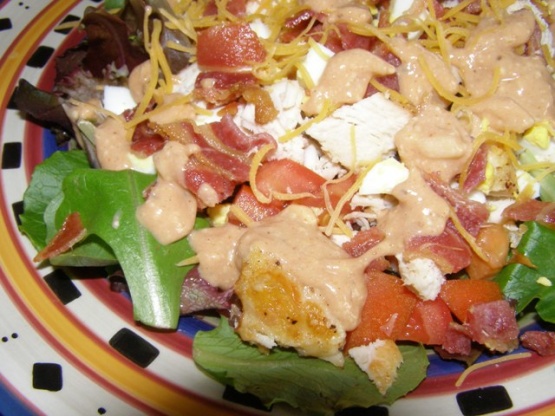 Tweaked up from TOH's 2001 Quick Cooking Annual, a family favorite! Get everything ready then throw it together right before serving.

Yummy blend of flavors! Lots of great veggies and protein, and the wonderful zip from the dressing. I used homemade BBQ sauce and fat free mayo - very unique touch! Thanks for sharing!
Combine dressing ingredients; set aside.
Place lettuce in serving bowl, sprinkle with remaining salad ingredients.
At serving time, drizzle salad with dressing, toss and serve.
Cooking time is for the eggs (bring to a boil, boil 3 minutes, turn off & let sit in hot water for 11 minutes, pour off hot water, cover with ice-water, begin peeling) and bacon (fry & drain on paper towels) and chicken (cover breast meat with half water & cooking sherry, simmer until meat is just barely pink, remove from heat, drain & cut) -- do these in an overlapping style, and you'll be done in no time!