BLT Cheeseburgers are Smokin!
Rita1652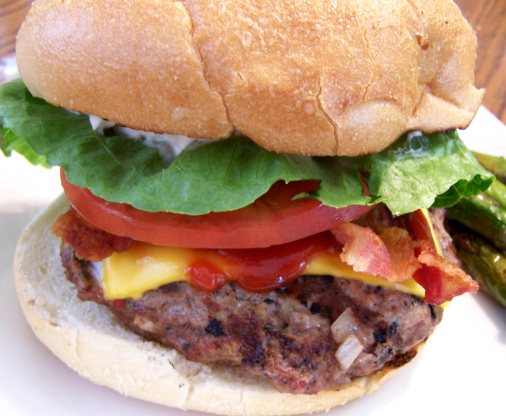 Your BLT on a cheeseburger with chipotles makes this a Hot burger! A hot grill is one you cannot hold your hand over. To test place you hand just above the cooking grate. If it's too hot to do then the grill is just right. Unless you know you have the best freshest meat serve it as desired.

Amazingly spicy and good! I eliminated the seed in the chipotle, but added adobe sauce on the bun when eating it! A little taste of perfection! I love spicy, and I love burgers. This was the perfect combination of the two. This is a keeper recipe! It is hot, so if you can't stand the heat, stay out of the kitchen...at least for this recipe! I will post photos if I can grab one before they are all gone! Made for Newest Zaar Tag.
Mix all the burger ingredients together and form 4 patties.
Oil the grate on your grill.
Preheat grill to a high temperature.
Quickly place all the patties on the hot grill and close the lid.
Wait about 2 to 3 minutes.
With a metal spatula test to see if the burger easily lifts from the grate. If not continue grilling, until it does.
Flip all the patties provided they lift easily. If you enjoy the heat lightly spread some adobo sauce on the cooked side.
Close lid and continue grilling for another 2 to 3 minutes.
Check the patties to make sure they have released from the grate and flip one more time. Spread some adobo sauce if wanted and top with cheese.
Continue grilling until juices from the burgers run clear and the patties have a solid feel. Or if you trust your meat source make it rare as you like.
Spread rolls with mayonnaise.
Place burgers on roll topping with the remaining ingredients.