Rita1652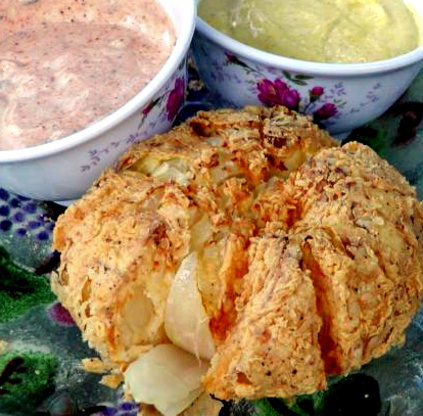 A take off from Outback! Yes fattening!

Great recipe but I want to offer a little suggestion and ask for advice from others who had made this. I made this as written twice but thought the crust was too dark(an unappealing almost burned brown color) at 350 degrees using my Bravetti Platinum Pro deep fryer. So on the third try I changed it to 325 degrees...MUCH better.(same frying time 10 minutes for a very large vidalia onion) Now for the other challenge the recipe did not state how long to par-boil the onion. The first try I did six minutes but flower collapsed. The second try I cut the time in half to 3 minutes but the onion was almost raw and the petals did not coat properly except on the outside. The third try I did 5 minutes which I think is about right EXCEPT the flower collapsed again after coating due to the weight. (everything tasted wonderful but was visually unaesthetic). I THINK the problem might be resolved by NOT cutting the core all the way through to the other side and instead leave the base intact 1/2"- 3/4". Anyone here have a similar experience and would like to share their strategy? One other alteration I made on the third try was reducing the amount of buttermilk from 1 cup to 3/4 cup. It may have been the brand I was using but on the first two attempts I thought the batter was too thin. After I reduced it to 3/4 cup I thought the coating clung much better. Thanks Rita for sharing your recipe.
Beat together the egg and buttermilk in a medium bowl.
Combine the flour, salt, pepper, cayenne, oregano, thyme, cumin and old bay in a separate bowl.
Slice 3/4" to 1" off the top and bottom of the onion and remove skin.
Cut out a 1" core and slice about 3/4 of the way down to create petals.
Place the onion in boiling water to separate the petals.
Let cool.
Dip the onion into the milk mixture.
Dip the coated onion into the flour mixture, covering liberally.
Repeat process.
Let onion set in the refrigerator for 15 minutes before frying.
Heat vegetable oil in a deep fryer or pot to 350 degrees.
Fry the onion right side up for 10 minutes until brown.
Drain on a rack or paper towel.
Combine ingredients for dipping sauce and serve.