bloodt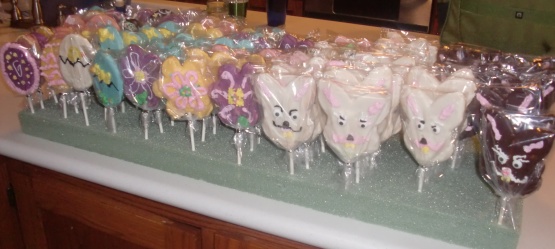 These are from the May 2001 issue of Creative Home magazine. They make a very rich sugar cookie that melts in your mouth. I use the large Wilton cookie cutters with the rubber grippers. My kids and I make flowers and butterflies in the spring, and leaves and sunflowers in the fall.

I took a picture of the snowflake cookies my daughter and I made using this recipe. Very pretty and yummy. I used the Meringue Powder glaze #188685 to glaze the cookies and then a basic royal icing and decorative sugar to finish. Make sure that the glaze is dry before piping icing. Cookies were delicate and light yet held together perfectly under the weight of all the icing. Thanks for sharing!!
In a mixing bowl, beat margarine or butter and cream cheese with an electric mixer on medium-to-high speed about 30 seconds or until softened.
Add about half of the flour, the sugar, egg, baking powder, and vanilla to the margarine mixture. Beat until thoroughly combined, scraping sides of bowl occasionally. Then beat or stir in the remaining flour.
Divide dough in half. Cover and chill for 3 to 24 hours, until easy to handle.
On a lightly floured surface roll each portion of dough to 1/4" thickness. Cut into 2 1/2 to 3 1/2 inch shapes (I use the large Wilton cookie cutters).
Place 1 inch apart on an ungreased cookie sheet. Bake at 375 for 9-10 minutes or until edges are firm and bottoms are very lightly browned.
Carefully remove cookies and cool on a wire rack.
Frost with Meringue Powder Glaze (recipe #188685).