Annacia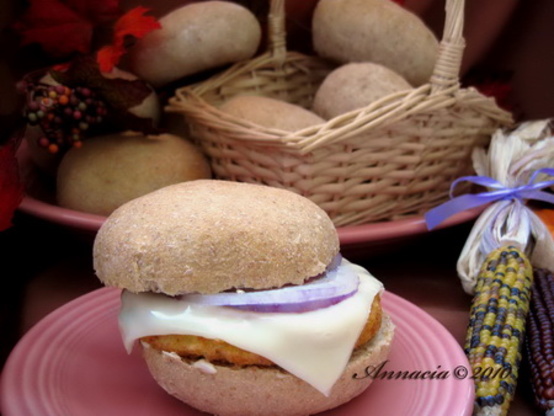 Bloomer Bread is not really a type of bread as much as it is a shape. It is cylindrical with a flat bottom, and has several diagonal slashes across the top. It's a British "style" of baking bread. The slow rising means the yeast does the work and develops a rich flavor.

This is an excellent bread. I love that there is no fat added (although, I did add in 2 Tbsp of Splenda). I made buns as I just never use a loaf of bread before it starts to grow cultures. The buns I will freeze to use as I like. It makes a hearty, good tasting, bread that will satisfy an empty tummy. I used 1.5 tsps of instant yeast that I buy in the jar and I'm not sure of how that differs from the dry. The full recipe made 8 big buns.
Mix the dry ingredients, except for the yeast, in large mixing bowl.
Mix the yeast with the warm milk. Add to the dry ingredients, mix well, then knead the dough for 8 minutes until smooth and elastic. Roll the dough in flour, put in a warm bowl and leave at room temp for 4 hours.
Punch down dough, knead it again, roll it in flour and let rise again another 2-3 hours.
Punch down the dough, give it a final kneading, shape into a baguette shape, cut slashes across the top with a sharp knife, brush with water and let rise another 30-50 minutes.
Bake in preheated 400F oven for 20 minutes.
Reduce temp to 325F and bake for another 20-30 minutes until brown and loaf sounds hollow when tapped on the bottom.