teresas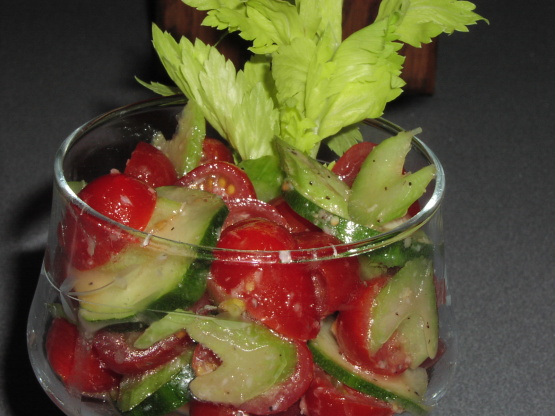 This recipe taken from our local township Advance Newspaper. Serving amounts are a total guess and the cooking time is the chilling time.

What an interesting recipe...I enjoyed making it and hubby and I enjoyed eating it...I loved all the ingredients...the only problem I had was trying to get the zucchini to be more friendly...they kept wanting to hang out together...:)...but I was able to force them to mingle...
In a large bow, whisk horseradish, oil, vodka (if using), lemon juice, pepper sauce, worcestershire sauce, 1/2 t. salt, 1/2 t. freshly ground pepper until blended.
Add tomatoes, celery, and zucchini and toss to combine.
Cover and refrigerate 2 hours.
To serve, toss again to coat with dressing.