Bloody Mary a Pitcher Full

This Tex-Mex drink is quite simple. Use well chilled Vodka I like it frozen. Garnished with lemon and celery. You can kick it up by adding horseradish. You can remove the seeds from the chiptole pepper if you can't stand the heat. Now thats the way to start you day!
Directions
Mix all except the garnish in a pitcher with lots of ice.
Pour into glasses.
Garnish with celery and lemon slices.
Reviews
Most Helpful
A Bloody Mary is my favorite cocktail, full of vitamins and low-cal, how could you go wrong? Up to this point my favorite recipe was homemade with horseradish, worcestershire, lemon or lime juice, etc., i.e. the classic Bloody Mary mix. Well, I now have a new favorite with chipotle and adobo sauce! The smoky taste was perfect in this drink! I couldn't bring myself to drink a Bloody Mary without horseradish, so I added 2 teaspoons to the half-recipe I made and used a lime instead of lemon which was what I had on hand. Thank you!.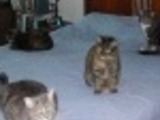 Vodka does not freeze..but you can get it mighty cool! The rest of the recipe sounds delightful!
Spicy spicy and yet--refreshing! Like the vegetable juice cocktail in place of just tomato. Used lime slices instead of lemon & squirted just a little of the juice into the pitcher. Very, very nice way to relax at the end of a stressful week.

Holiday Central >