3 Reviews
A Bloody Mary is my favorite cocktail, full of vitamins and low-cal, how could you go wrong? Up to this point my favorite recipe was homemade with horseradish, worcestershire, lemon or lime juice, etc., i.e. the classic Bloody Mary mix. Well, I now have a new favorite with chipotle and adobo sauce! The smoky taste was perfect in this drink! I couldn't bring myself to drink a Bloody Mary without horseradish, so I added 2 teaspoons to the half-recipe I made and used a lime instead of lemon which was what I had on hand. Thank you!.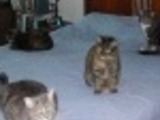 Vodka does not freeze..but you can get it mighty cool! The rest of the recipe sounds delightful!
Spicy spicy and yet--refreshing! Like the vegetable juice cocktail in place of just tomato. Used lime slices instead of lemon & squirted just a little of the juice into the pitcher. Very, very nice way to relax at the end of a stressful week.

Bloody Mary a Pitcher Full