lets.eat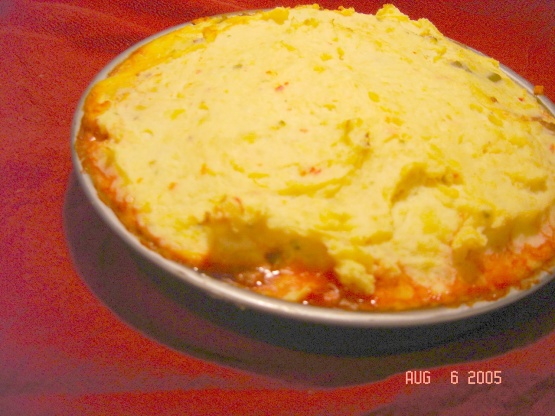 This recipe name sounds kind of strange but it's great. Got this recipe from my sister and this is what she called it. Not sure where she got it at. If anyone knows it by another name, let me know. If you have heard it by this name let me know also. It's a great basic recipe for adding other ingredients, such as the various different tomatoe sauces that are out now. Sometimes I add mushrooms. My family requests this recipe often because it is hearty and fills you up. Serve with a salad and bread.

We make this at home..it's one of my husband's grandmother's recipes. We cook burger with onion then drain and put in 8x8 pan, top with drained green beans, tomato sauce, then mashed potatoes. She tops it in serving sized glops. then bake in oven until the potatoes start to turn golden and the casserole bubbles. Yummy, filling comfort food. Don't think my kids would like to eat something called Blood Gravy, so we'll stick to Gram's Casserole!
In a large skillet fry the hamburger adding the onion and garlic.
Drain.
Add tomato sauce and green beans with liquid.
salt and pepper.
Cover and simmer, cook for 15 minutes.
Stir a couple of times.
Meanwhile, don't forget to make your fav mashed potatoes.
To serve: Put potatoes in the middle of plate and top with yummy meat gravy.