vrvrvr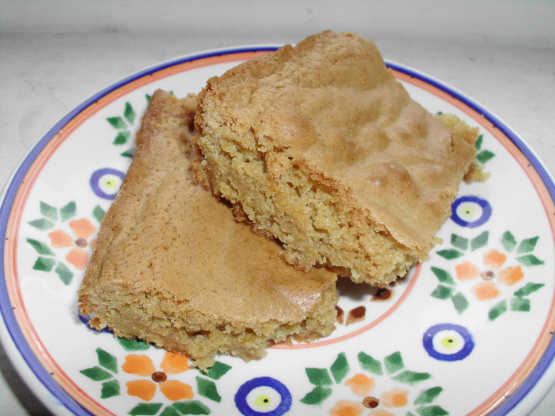 This was one of my mother's favorite cookie recipes, and she baked dozens of these for carry-in dinners. From the kitchen of Wanda Cupp Thornburg, Moberly MO.

Top Review by vrvrvr
Mmmmm, chewy and butterscotchy and delicious! I made these plain (without nuts or chocolate chips) and baked them in a buttered 8x8 pan. I can see that they'd be thin in a larger pan. Easy to mix in one saucepan and finished baking in 21 minutes. These are tops! Thanks TLC-MO!
Melt butter and add brown sugar. Let cool.
Add all remaining ingredients and mix well.
Put into greased 9"x9" pan. Bake for 20-25 minutes in 350 degree oven. Do not overcook.
Cool slightly and cut into 1"x3" bars. Cookies should be moist and chewy, so keep them in an airtight container.