Joyd9060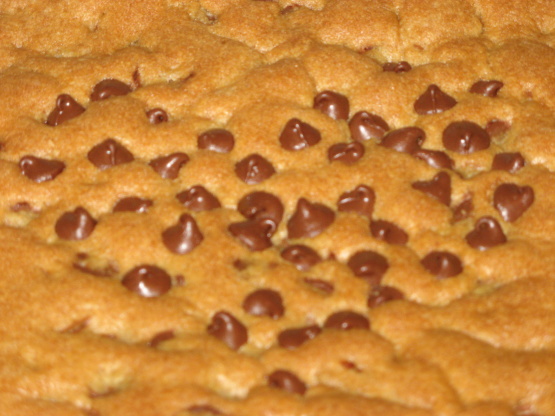 this is a nice variation on a chocolate chip cookie.

Okay, I just made these and let me just say I am now in chocolate chip cookie heaven! I subbed whole wheat flour for 1/3 of the flour and used a little less sugar (not sure how much less though) since I don't like my desserts too sweet :). I reduced the serving size in half and found that it cooked perfectly in a little under 20 minutes. This is seriously one of the best desserts I have made. They are nice and soft and chewy and full of gooey chocolate goodness! I've already eaten most of the pan, lol! I'm not sure how long these are going to last... This is a must make recipe for cookie lovers everywhere!
Butter one 10X15X1 jelly-roll pan, and line with parchment or foil paper.
Set a rack at the middle level of the oven, and preheat to 350.
In a mixing bowl,stir together flour, salt, and baking soda.
Beat the butter with the sugars until combines.
beat in the eggs, one at a time, and finally the vanilla extract.
Stir the flour mixture into the butter mixture, then the nuts and the chips.
Spread the batter in the prepared pan and bake for about 30 minutes, until well risen and firm to the touch.
Cool in the pan on a rack.
After cake is cool, invert onto a cutting board and peel away the paper.
Cut into 2-inch squares.
Storage: keep the blondies in a tin or plastic container with a tight-fitting lid.
Or wrap individually and freeze in a tightly closed plastic container.