Redsie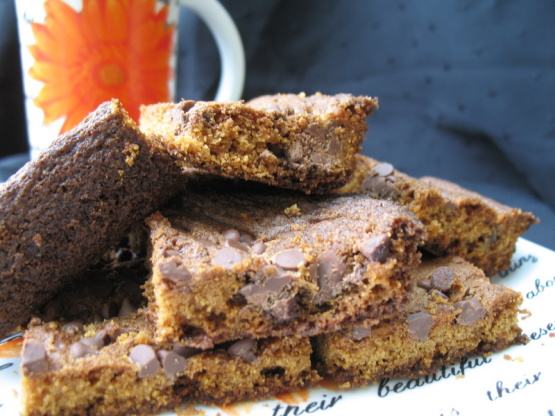 From the All Recipes Cookie Lover's Cookbook. This recipe was submitted by a "Sue Bush". She describes it as Rich, Chewy brownies crowned with chocolate chips are irresistible. And boy is she right.
These are awesome! I get asked for this recipe all the time. I usually double it and put it in a 9x13 and put a little less salt. I also usually use pecans instead of walnuts! I had originally got the recipe off AllRecipes and I'm glad to see it on here! :)
Preheat oven to 350°F Grease a 9x9 inch square pan.
Combine sifted flour, baking powder, baking soda, and salt. Sift again and add 1/2 cup chopped nuts. Mix wel and set aside.
Melt 1/3 cup butter. Add 1 cup firmly packed brown sugar and mix well. Cool slightly.
Add beaten egg and vanilla; blend well. Add flour mixture, a little at a time, mixing well.
Spread into prepared pan. Sprinkle chocolate chips on top. Bake in the preheated oven for 20 to 25 minutes. Cool and cut into bars.