Bloemkoolsoep (Dutch Cauliflower Soup)
Jubes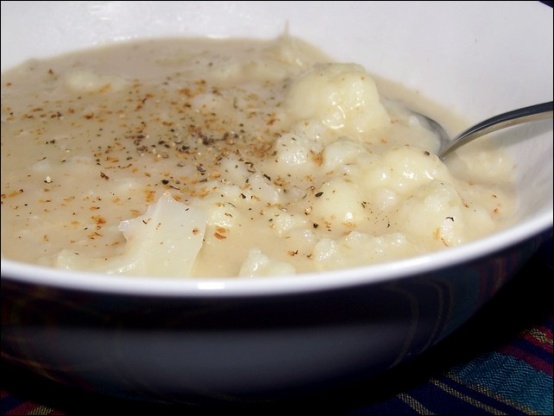 This is a great soup to serve as a first course, or with salad and/or sandwiches.

I do believe this is the best cauliflower soup I have ever made. I was concerned with the thickening mixture at first but after adding the milk which is not mentioned in directions, I finally ended up with a pourable mix. I also added velveeta cheese. Will definitely make this soup again.
Clean cauliflower and separate into florettes.
Chop the tender part of the stalk.
Discard remainder of the stalk.
Bring the stock to a soft boil and cook the cauliflower until just barely tender (about 8 min).
Meanwhile in a sauce pan, melt butter, add flour and stir constantly about five minutes.
Slowly add some of the cauliflower stock to the flour mixture.
Continue to stir flour mixture and add enough stock to dissolve all flour and have a consistency you can pour into the stock to thicken it when the cauliflower is tender.
Add nutmeg and cream to the soup, stir, and serve hot.
For variety, you can omit the nutmeg, and add paprika instead.
You can also add 1/2 cup cheese when you are combining the flour and stock.