Bloemkool (Cauliflower Netherlands - Style)
Parsley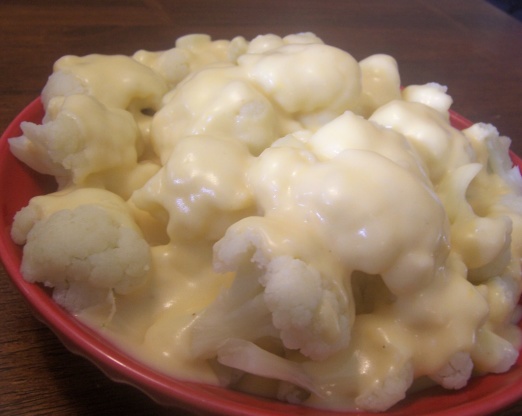 Cauliflower served in a simple white sauce with a hint of nutmeg which highlights the cauliflower. Cheese lovers have the option of adding some of there favorite cheese to the sauce. Try melting some Dutch cheese such as Edam or Gouda cheese into your sauce. Some other suggestions are Fontina, Gruyere, Cheddar or your favorite mild cheese from your part of the world. Enjoy!

This is the same cauliflower recipe I grew up with and it's still my favorite. Thank you for posting Acerast :)
Clean and break cauliflower into flowerettes.
In a kettle, boil cauliflower in the water until tender.
While the cauliflower is cooking, melt butter in a medium saucepan, over low heat.
Whisk in flour, salt and nutmeg, making a smooth paste.
Add the milk slowly, stirring constantly to incorporate smoothly.
Cook over low heat until thickened, stirring constantly.
Optional: grated cheese may be added at this point, stirring constantly to incorporate into a smooth sauce.
Drain and place cauliflower in a serving dish.
Pour white sauce, (cheese sauce) over cauliflower and serve.