Blitva (Croatian Swiss Chard Dish)
Bruce69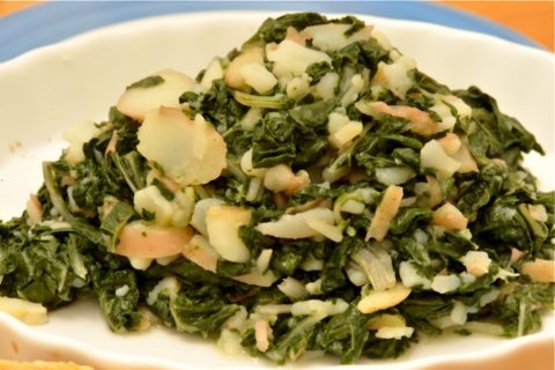 A traditional dish in Dalmatian cuisine, this is very easy to make. It makes a perfect side for fish, cooked meat or, my favorite, cured meat such as prosciutto. It can be made more creamy when potatoes are very well cooked, or soupy when more liquid is preserved. On my scale this would be 3.5 Stars (please see how I rate recipes).

Top Review by Geema
What a unique and delicious recipe this is for summertime Swiss chard. I had rainbow chard, so I did use the beautiful red, purple, orange and yellow stems, first cutting off the tough ends, and then slicing them into 1 inch pieces. I cooked my Yukon gold potatoes in chicken broth, adding the stems to the pot for the last 5 minutes. After cooking the garlic lightly in the olive oil, I tossed in the chopped leafy chard and let it cook for just 2 minutes before adding the potatoes, the stems and about 1/2 of the broth. A generous grind of fresh pepper and in just a few minutes time we had a wonderful side dish to our meatloaf.
Bring a large pot of salted water to a boil.
Add peeled and cubed (1/2-1 in cubes) potatoes.
Rinse the Swiss chard, remove tough stems, and cut into 1/2 in strips (or just tear into large pieces).
When potatoes are almost done, add the Swiss chard, and cook all together for an additional 10 minutes (15 minutes if the chard is older).
Sauté garlic on olive oil, and add the cooked drained chard and potatoes to it (you may keep some water so that it looks like a thick soup).
Salt and pepper to taste.
Stir and cook for 1 more minute in order to bring all flavors together.