Bleu Cheese Crescent Spirals
GaylaJ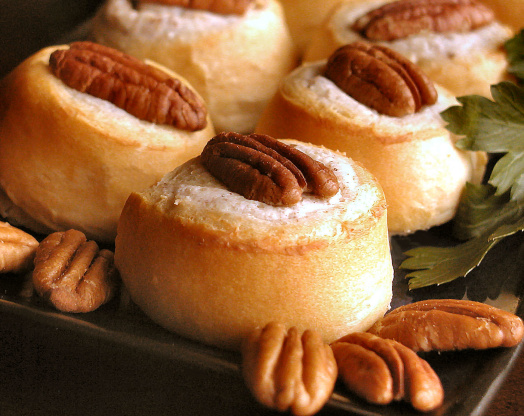 I am always on the look-out for finger food for our many appetizer parties. This recipe came about from my love of Bleu Cheese and my desire to have a nibble that was easy to eat at a standing room only party. Add or reduce cream cheese to bleu cheese ratio to suit your tastes.

I haven't tried these...Yet! I wanted to mention a technique to cutting these that some newer cooks may not be aware of. Get a piece of thread, 8" or so, slip under roll then tie your thread until it cuts through the dough, your spiral should be perfectly cut without smashing the roll when trying to cut. I hope these instructions are clear and most of all helpful.
Process pecans in a food processor until finely chopped.
Add cheeses and process until very smooth. Add the milk, if necessary to blend smoothly.
(Can prepare ahead to this point and then place in a covered dish and refrigerate until ready to proceed.).
Unroll dough into 4 long rectangles.
Firmly press diagonal perforations to seal.
Spread the cream cheese/bleu cheese/nut mixture on each rectangle.
Starting at the shortest side, roll up each rectangle, press and seal.
Cut each of the 4 rolls into 5 slices forming 20 slices.
Place cut side down on an ungreased cookie sheet.
Press one pecan half on each slice.
Bake 15-20 minutes or until golden brown.
Remove from cookie sheet.