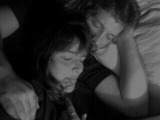 These thick (man-sized), tender, and very creamy bleu cheeseburgers are another one of our recipes made 'on the fly' with whatever was in the pantry. Be sure and use a good quality bleu cheese (we like Stella Brand). Ideal served with with Creamy Bleu Cheese Sauce. Use pita bread and add sliced tomatoes for a '2Bleu style' gyro.
Directions
Mix all meat ingredients into a bowl until combined. Form 4 patties. Wrap in plastic wrap and refrigerate for at least 30 minutes.
Preheat the oven to 400 degrees F. Line a baking sheet with parchment paper.
Heat oil and butter in a large non-stick skillet over med-high heat. Add burgers and sear to brown (about 2 minutes on each side).
Place burgers onto cookie sheet and bake for 20 minutes until cooked throughout. Serve with Bleu Cheese sauce on warmed buns. NOTE: These burgers can also be cooked on the grill.
Most Helpful
These were great . . . instead of seraving with the Cream Blue Cheese Sauce, I just topped them with more blue cheese. DELICIOUS!

These had a great flavor. I love blue cheese and I'd seen the commercials of the way they are making them at Red Robin with blue cheese now and wanted to try it. I'm so glad I got to. This one was probably even better than that would have been. I prepared this and had it with Recipe#264984. I also ate it on a flour tortilla instead of bread. DH was wanting a quasidilla burger and I didn't want to be the only one eating hamburger buns. I also served with a slice of tomato.

This ended up being very good. I made a spicy chipotle/jalapeno mayo spread for the burgers which really brought out the bleu cheese flavors.