Lawsome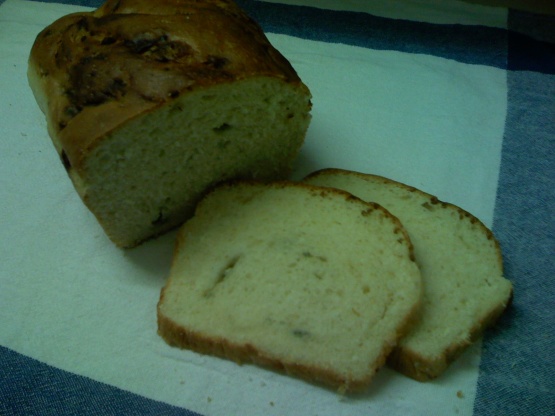 This is a very easy bread recipe for a bread machine. Highly recommend toasted with butter!

Very good bread. Nice to nibble on with a glass of cabernet. I was surprised at how mild the bleu cheese flavor was in the bread. The cheese definitely gives the bread a distinct (and delicious) flavor, but for such a strongly flavored cheese, it is very subtle--though not at all bland. I followed the ingredients exactly as written, but I let the bread bake in the bread machine on the basic bread cycle. I have a horizontal loaf pan in my machine, so I didn't really see any need to transfer the dough to a loaf pan to bake in the oven. And although, for most other recipes, I usually do use my bread machine for kneading and finish the loaves in the oven, I have discovered that breads with cheese mixed into the dough actually take on a nicer, crispier crust when baked in my bread machine. I'm looking forward to trying this toasted, as I haven't had a chance to do so yet!
Put all ingredients in bread machine bowl.
Set machine to dough cycle.
When finished, remove dough, knead lightly and place in greased loaf pan.
Bake at 350-375 degrees for 40 minutes.