Bleu Cheese Beef Tenderloin
Zurie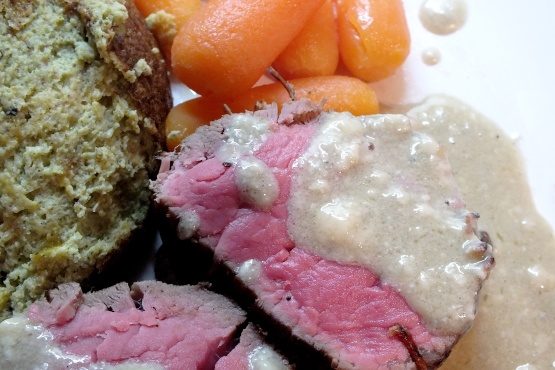 If you like bleu cheese...you should love this easy meal. Prep time is the length of time to let the meat marinade as well as to create the final sauce. (This is a copykat with a few adjustments but for the life of me I don't know where I got it)!

An excellent recipe. The sauce is fantastic and very easy to make. I'm sure I will use it on other meat dishes (pork, chicken, buffalo wings). As for the marinade, I saved it, added a bit more wine, a little butter and used it to cook fresh sliced mushrooms. It really adds a great flavor.
Place beef in a shallow dish.
Combine, teriyaki sauce, red wine& garlic.
Pour mixture over beef and allow to marinate for at least 30 minutes turning at least once.
Place tenderloin on broiler pan and cook in preheated oven at 450 degrees for 15 minutes.
Reduce heat to 375 degrees and cook for 30 to 40 minutes longer (or to desired doneness... I like mid-rare so I do 20 minutes depending on the thickness of the cut).
Allow to set for appx 10 minutes before slicing keeping in mind it will continue to cook as it sets.
In a saucepan over low heat, combine the bleu cheese, mayo, sour cream and worcestershire sauce.
Stir until smooth and creamy and serve over the sliced tenderloin.
When I made this, I saved the marinade, minced some garlic and added a little more of each ingredient (especially the garlic).
I then put it in a saucepan with a sprig of rosemary and small red potatoes and let them simmer while the meal cooked.
As always, garlic and bleu cheese can be overpowering for some (not me mind you... never have enough*LOL) but you can indeed adjust these to taste.