katew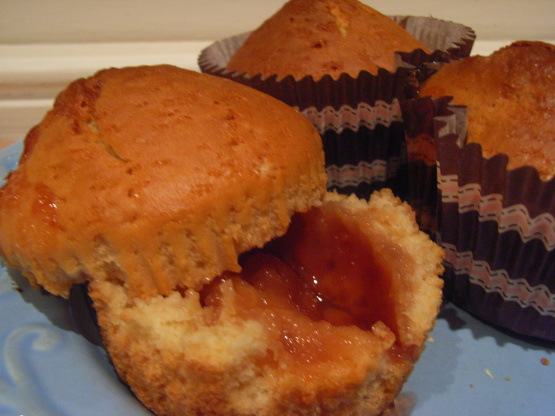 Simple muffins from scratch with a surprise filling. They are not too sweet. The original recipe also suggests substituting another fruit, or steamed carrots, for the plum filling. I tried it with blueberries, most of them stayed in the middle but they rose to the top on a few of the muffins. You could also use jam. For ZWT7, from ricettedalmondo.it

Just as you say, these are a not-too-sweet muffin with a surprise in the center, which somehow was wildly amusing to my kiddos LOL. All of my fruit stayed in the center of the muffin, which made them look pretty cool. I used white wheat flour instead of AP and they still turned out tender and yummy. Thanks for posting! Made for a fellow Gourmet Goddess for ZWT 9.
Preheat oven to 350°F.
Grease muffin pan.
Wash and dry the plums. Cut them in half and remove the pits.
Mix the flour, oil, sugar and baking powder. (The muffins aren't too sweet, so add some extra sugar if you prefer a more dessert like muffin.).
Add milk, eggs and vanilla, mix well.
Add 2 tbsp of batter to each muffin cup. Place plum half (or other fruit) in the center of each muffin. Divide remaining batter evenly among muffins to cover the fruit.
Bake for 25-30 minutes or until a toothpick inserted in muffin comes out clean. (The fruit will cling to the toothpick, but muffin dough should not.).
Let cool and sprinkle with powdered sugar.