VickyJ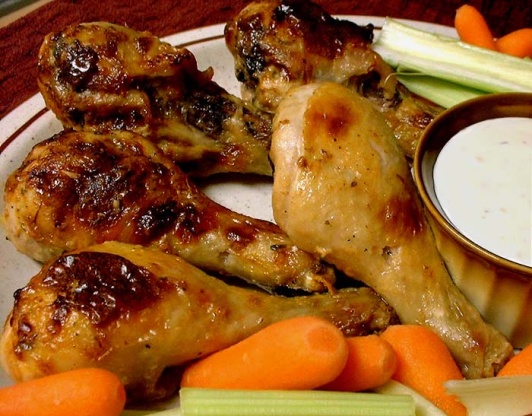 I just saw Sandra Lee make these on Semi Homemade Cooking and thought they looked like an easy and tasty appetizer for a party I'm planning in a few months. Some of the reviews on the website say they are on the mild side, so if you like spicy, you'll want to take that into consideration. The prep and cook times do not include the refrigeration time.

It's a good basic wing Recipe. They came out very moist, but all in all I found it bland. The buttermilk taste cancels out most of the seasonings flavor. I will keep the recipe, but will be adding alot more to it. Thank you for posting. I had watched the show but didnt write anything down :)
1

quart buttermilk

2

(1 5/8 ounce) packages buffalo wings seasoning blend
1⁄4 cup hot sauce

4

lbs chicken drummettes
blue cheese dressing, for dipping
cucumber, cut into 1/4-inch slices
In a large bowl, stir together buttermilk, wing seasoning and hot sauce. Add drummettes and be sure all are coated. Cover with plastic wrap and refrigerate at least 3 to 4 hours, preferably overnight.
Set up grill for direct cooking over medium-high heat. Oil grate when ready to start cooking. Remove wings from refrigerator and let sit at room temperature for 30 minutes. Grill 12 to 18 minutes, turning occasionally, ending with skin-side down.
Serve with ranch dressing, celery sticks, and cucumber slices.
INDOOR: Prepare wings as directed. Preheat broiler. Place wings on foil lined baking sheet or broiling pan. Broil 15 to 20 minutes turning occasionally or until cooked.