alligirl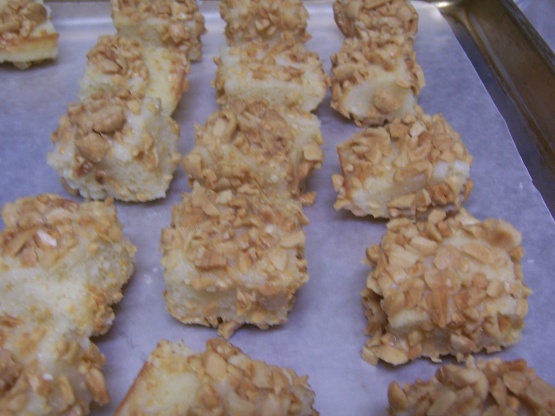 An old family recipe. The original notes called for a "Large Square Pan," but I tried it in an 8" pan, which did not work well - they turned out overly large. So I switched it to a 9x13" pan, but just be sure to spread it evenly (although the dough is a little sticky), or the thin parts will overcook.

These were very good! I did cheat a little....instead dipping the pieces into the glaze and nuts, I drizzled the glaze over the pieces and then sprinkled the nuts over top. My kids loved them and loved helping to make them.
Preheat oven to 375°F.
Sift flour, sugar, baking powder, and salt together in a bowl.
Place 2 eggs in a 1-cup measuring cup and fill to top with milk (about 1/2 c, varies based on eggs).
Mix for 5 minutes with dry ingredients - I do this by hand the way she always did, so I'm not sure whether or not using a mixer would be good.
Spread evenly in a greased 9 x 13" pan for 12-15 minutes, and bake until cookies are puffy, golden brown, and cooked through.
Meanwhile, prepare a powdered sugar icing by combining 1 c powdered sugar with a small quantity of milk (start with just a tablespoon or so). Mix well. Add milk as needed to reach your desired consistency (a bit like a glaze).
Finely crush the peanuts.
When cookies are done, let cool for a few minutes before cutting into squares. Coat in icing, then roll in nuts. Let dry on wax paper.