Blarney Stone Cake With Frosting!
Saturn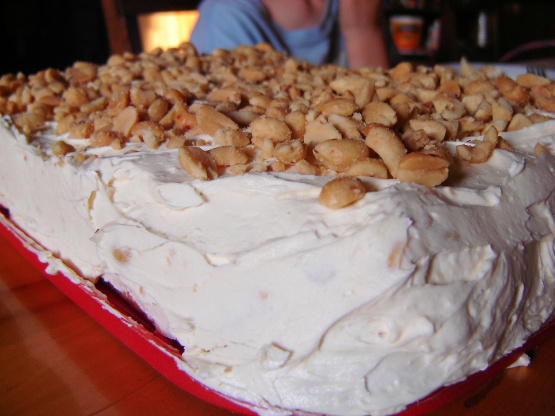 From Camp Waldemar for Girls in Hunt, Tx - this cake has been served at the camp since the 1940s. - these are FANTASTIC with coffee ice cream!!!!

Top Review by Debbb
Wow! Very unique - my favourite kind of recipe to try!! The cake is a typical sponge cake - nice & light & light-tasting. But, it's a fabulous base for the fantastic frosting!! I actually made as cupcakes (yield: 18 cupcakes) for a co-worker's birthday. I only had 3/4 cup of peanuts so I crushed them all & put them all in the frosting. Big hit at the office!!
For the cake:.
Preheat oven to 350.
Separate the eggs, reserving one of the yolks for the icing. Beat remaining 3 egg yolks until light and thick (about 5 minutes).
Gradually add the sugar.
Sift togther the dry ingredients.
Add the dry ingredients to egg/sugar mixture alternately with the hot water.
Stir in the vanilla.
Whip the egg whites until stiff peaks form.
Gently incorporate 1/4 of the egg whites into the batter.
Fold remaining egg whites into batter.
Pour batter into 9x13 cake pan and bake 30 minutes or until cake springs back when touched.
For the Frosting:.
Cream together the butter and the egg yolk. Sift the powdered sugar over the butter mixture and mix until smooth.
Stir in the vanilla.
Fold in 1/2 cup of the peanuts.
Frost the cooled cake and sprinkle the remaining peanuts on top of the cake.
Cut into squares (or I use a round biscuit cutter) and serve with coffee ice cream.