Blarney Grilled Cheese & Chutney Sandwich
Rita~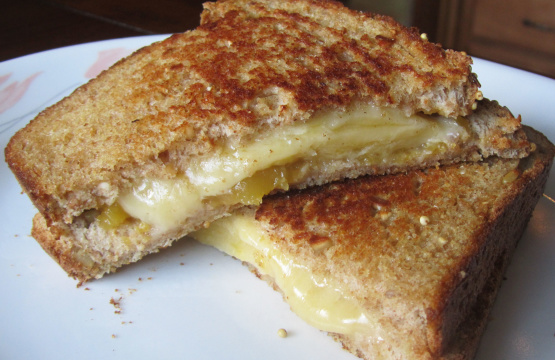 My Irish family has been telling me for yrs (ok, decades) that I was full of blarney & now I get a chance to make it work for me! Blarney comes from the tradition of being held upside down by one's ankles in order to kiss the Blarney Stone at Blarney Castle in Blarney, Ireland. After kissing the stone, one is supposedly endowed w/the gift of gab. The Irish clearly have no need to seek special help in this area, so the only people you ever find submitting themselves to this exercise are tourists. Now you might ask "What does this have to do w/recipes?" Well, there is a Blarney cheese & it was advertised in the most recent Cooking Light magazine. Per their website, "Blarney Castle cheese is an entirely natural semi-soft, part-skim cheese containing no artificial additives or coloring. Its subtle flavor is reminiscent of a young gouda." So my advice would be to use Blarney cheese for this tasty new version of a grilled cheese sandwich if you can get it, a good gouda or even a smoked gouda. I thot the ingredients were a bit on the skimpy side, so I modified them slightly. I promise you will not be sorry if you are even more generous w/the chutney than stated. Enjoy!

What a fun lunch I had today! Just delicious. Quick enough that I could make it and photo it on my one hour lunch break. Just loved the creamy cheese with the kick of the chutney. Made for ZWT8. Thanks for sharing!
6

slices sandwich bread (1/4-in thick)

2

tablespoons butter (softened, use more as needed)

3

tablespoons Major Grey chutney (flavor of choice)

6

ounces sliced cheese (Blarney Castle, gouda or smoked gouda)
Spread 1 tsp softened butter on ea slice of bread (may use more as needed).
Spread 1 tbsp chutney on unbuttered side of half the slices.
Top chutney w/2 oz sliced Blarney, gouda or smoked gouda cheese.
Place bread slice on top, buttered side out.
Over med-low heat, brown in a lrg skillet (turning once or twice) till cheese is melted (1-2 min per side).
NOTE: Is it not cute the way they have so meticulously told us how to assemble & cook a grilled cheese sandwich? I loved it!