Pneuma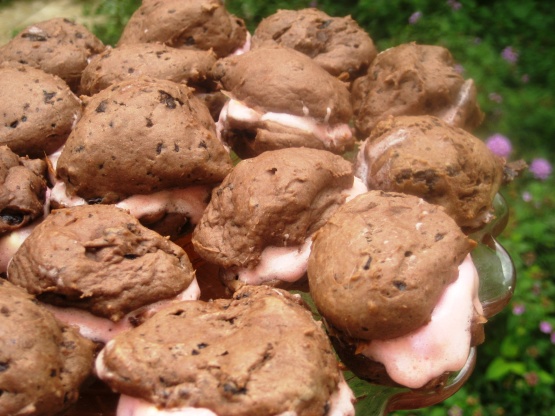 My mom was a newlywed in the 1950s when she found this recipe. It's been my favorite dessert as long as I can remember. Since I've never seen the exact recipe anywhere else, I have copies stashed all over the place so I never lose it. I usually increase all the filling ingredients by half to have more of it. I've never counted the number of blackmoons this makes so I'm just guessing.

Top Review by Pneuma
I've often wondered how to make this after trying them outside. After reading the list of ingredients, I just had to make this! I used pink melted marshmallows instead of cream as that was available for me. Next time I use the melted ones, I should lessen the butter so they mix well. But that's my fault since I didn't use cream. Despite that, it still tastes great! I also used sugar substitute and I must say that these are so easy to prepare and the shells bake so fast too. Took me only an hour from start to finish. The shells were soft, the marshmallow filling's yummy. I'm just so glad I found this treasure! Thank you for sharing this, Twig #2. Made for PAC FALL 2008.
In a large mixing bowl, mix the first 10 ingredients well and drop by teaspoon on an ungreased cookie sheet. Bake in a 425 F oven for approximately 7 minutes. Cool on wax paper.
To make the filling, mix the filling ingredients together (1/2 cup shortening, 1 cup confectioner's sugar, 1 cup marshmallow fluff, 1/2 teaspoon vanilla, and a little milk) to make a creamy consistency.
Choose 2 shells approximately the same size and spread one with the filling and top with the other.