Blackened Portobello Mushroom Salad
JustJanS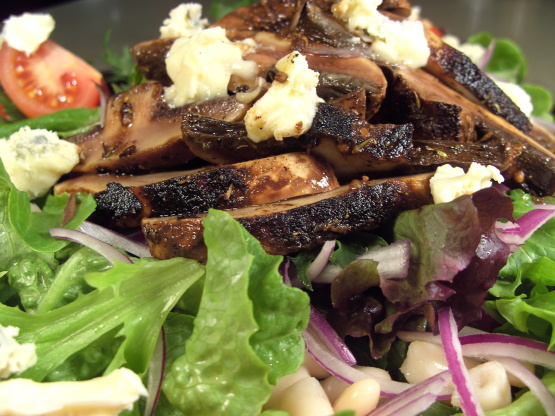 A SPEEDY cajun themed main-dish salad. Recipe from Cooking Light, May 1998. It is very highly rated on their website. After making this recipe, I have to say I was pleased. I marinated my mushrooms for about 30 minutes and they had great flavor. I used Emeril Essence (left over from another recipe) as the Cajun seasoning. My only suggestion would be to cut the mushrooms very thin so that they aren't rubbery after cooking. ENJOY!

I just knew we were going to LOVE this salad when I first saved it to make. I made my own Cajun seasoning using Recipe #374037. I bought a bag of greens which I suspect was about half what you suggested and made this on one pretty platter as a side to steaks. I'm going to make this gorgeous salad again really, really soon.
Combine first 7 ingredients in a large zip-top plastic bag. Add mushrooms to bag; seal. Marinate 10 minutes, turning occasionally. Remove mushrooms from bag, reserving marinade.
Sprinkle mushrooms with Cajun seasoning. Heat 2 teaspoons oil in a large nonstick skillet coated with cooking spray over medium-high heat until hot. Add mushrooms; cook 2 minutes on each side or until very brown. Cool; cut mushrooms diagonally into thin slices.
Arrange 4 cups salad greens on each of 4 plates. Top each with mushroom slices, 2 tomato wedges, and onion rings. Sprinkle each with 1/4 cup beans and 1 tablespoon blue cheese. Drizzle the reserved marinade evenly over salads.