gailanng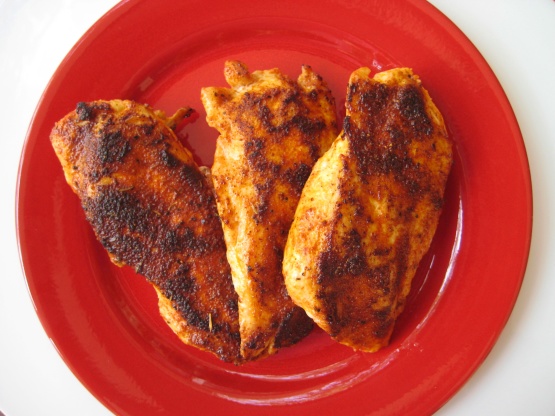 A really quick and simple chicken dish.Serve with a salad and dinner is on the table in less than 30 minutes!

Perfect blackened chicken. A really hot skillet is a must for this....I used an old cast iron skillet that belonged to my grandmother. The chicken was so moist and flavorful, with a nice crispy, spicy coating on the outside. I loved this, and I'll definitely make this again. Thanks for sharing!
Slice each chicken breast in half horizontally,making two pieces about the same size.If using,melt the butter/margarine.
Combine the remaining ingredients.Brush the chicken withe butter on both sides,then sprinkle evenly with the spice mixture.
Heat a large heavy based frying pan,then drizzle a little melted butter on each chicken piece (about 1 tsp).Place in the pan,and cook for 2-3 mins,until the underside begins to blacken.Turn and cook for a further 2-3 mins,or until cooked through.Serve hot.