Blackened Fried Oysters With Lemon Cocktail Sauce
Peter J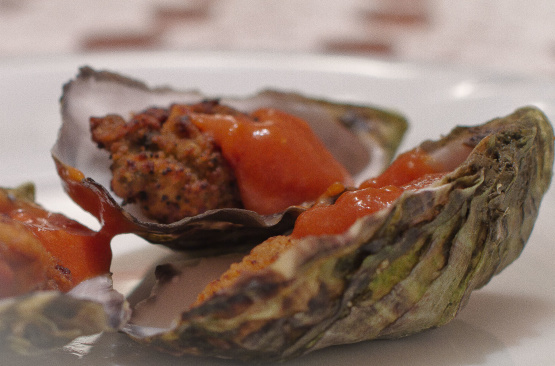 The secret is to use the freshest oyster you can find. These are pan fried, not sauted. Use plenty of oil and keep it hot to keep them crispy on the outside and plump and juicy on the inside. Using a cast iron skillet is best. Servings depend of use...main dish or appetizer.

Yum! The sauce had a really nice tang and the coating was beautiful and held together really well while frying. Local fresh oysters where I live are very good but not all that large, so I used half the quantity for a dozen and popped them back in the shell with the sauce for presentation.
Sauce

1

cup catsup

4

tablespoons horseradish (adjust to taste)

Oysters

2

cups flour
1⁄2 cup cornmeal

2

tablespoons blackening seasoning (many recipes on food.com)

1

tablespoon kosher salt

12

fresh oysters

2

eggs, beaten
oil (for frying)
Mix all sauce ingredients together and refrigerate.
Mix together flour, cornmeal, blackened seasoning and kosher salt. Dip each oyster in the eggs, then into the flour mixture. Allow to sit while heating the oil.
Heat 1/2 inch oil in a cast iron skillet until almost smoking. Without crowding or touching, fry on both sides until golden. Remove to a platter covered in paper towels to drain.
Serve with a side of sauce and a lemon wedge to garnish.