Blackened Chicken Pasta With Alfredo Sauce
lazyme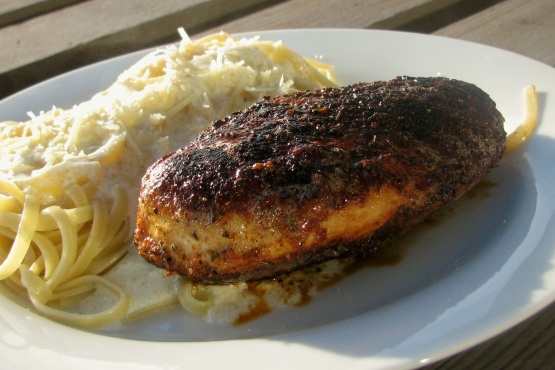 I make this every Wednesday night! Everyone I have made this for LOVE'S it. I know you will love it to. Serve with your favorite breadsticks.

I've been reading the most fascinating book about chicken raising...have I, yet, mentioned that fact? But, not as good as the 11 perfect reviews of this recipe.
Preferrably use a cast iron skillet for blackening the chicken breasts. If you don't have one then regular skillet will work.
SAUCE:.
First off place 1 stick of butter and cream cheese in large saucepan on medium heat, let melt, stir in 1 pint of heavy cream.
Let simmer for 5 minutes, stirring frequently.
Slowly stir in the parmesan cheese, about 1/4 cup at a time.
Add salt and pepper if desired.
Simmer for about 20 minutes on low heat. Stirring frequently.
The longer this simmer's the better.
If sauce seems to be real thick then slowly stir in the rest of heavy cream.
In the meantime while the sauce is simmering start the noodles. Drain. Set aside,adding a little of sauce so the noodles don't stick.
Chicken:.
While the sauce is simmering, preheat skillet on medium-high heat with 2 tablespoons butter. Sprinkle both sides of chicken with zataran's blackened seasoning. Place on to skillet and brown on both sides, turn down heat to medium. Cook on each side for about 7-8 minutes or until no longer pink in the middle.
Place noodles on plate, top with sauce and place the chicken on the side.
Garnish sauce with fresh grated parmesan cheese.
Serve with your favorite salad and breadsticks.