Blackened Chicken Breasts With Cajun Corn Relish (Ww)
Linky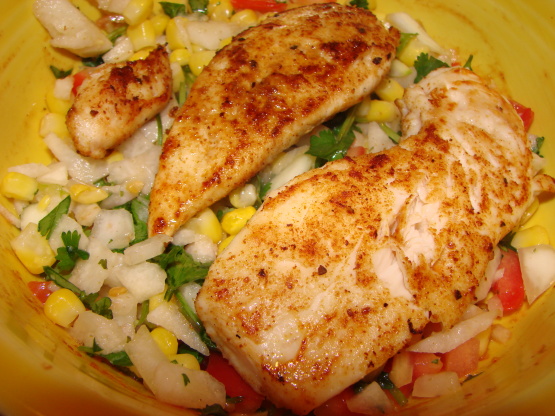 I love Cajun food - especially blackened. This sounds great. From the Weight Watchers New 365 Day Menu Cookbook.

This was absolutely outstanding. Nothing diet about it in flavor and very filling. WW or not....this is a company dish. My daughter had the great idea to make the corn relish in the future and add a can of black beans and eat it like salsa with some baked tortilla chips. I will do that for sure! I made this exactly as is....no changes. OUTSTANDING!
In small nonstick skillet, toast cumin over medium heat, stirring constantly, 2 minutes, until fragrant; transfer to large shallow bowl.
Add corn, tomatoes, jicama, scallions, juice and salt to toasted cumin; toss to combine. Set aside.
Sprinkle chicken on all sides with Cajun seasoning. Spray large iron skillet with nonstick cooking spray; heat. Add chicken; cook over medium-high heat, turning once, 8 minutes, until browned on all sides and juices run clear when chicken is pierced with fork.
Arrange cooked chicken breasts on top of corn mixture.
SERVING (1 CHICKEN BREAST, 3/4 CUP CORN MIXTURE) PROVIDES: 1 Vegetable, 3 Proteins, 1 Bread.
PER SERVING: 232 Calories, 4 g Total Fat, 1 g Saturated Fat, 72 mg Cholesterol, 427 mg Sodium, 20 g Total Carbohydrate, 3 g Dietary Fiber, 30 g Protein, 33 mg Calcium; 4 points.