Blackened Chicken Breast With Cilantro LIme Quinoa
rpgaymer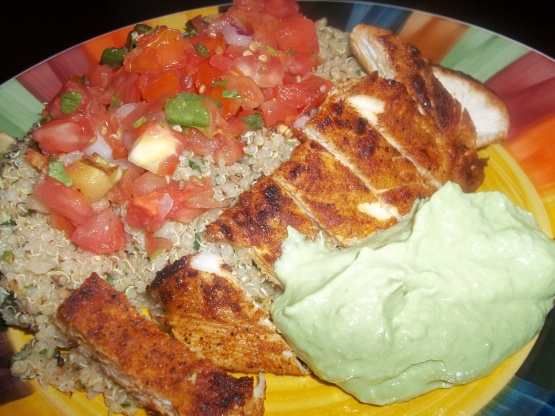 From Sarcastic Cooking (http://www.sarcasticcooking.com/) So ridiculously good and healthy!
A great meal! I have to say though, this makes a LOT of quinoa. We were more full than usual after dinner- next time I'll use half the amount. The spice blend on the chicken was great, and it turned out perfectly moist. I've made avocado cream like this before, and it's always a great addition. I also topped the quinoa with a generous amount of homemade pico de gallo, and it really brought all the flavors together. Thanks for sharing!
Combine all the dry seasonings in a small bowl. Mix them together and then season both sides of each chicken breast.
Add the teaspoon of olive oil to a large pan or skillet. Heat the olive oil for a minute over medium/high heat. Add the chicken breasts to the pan. Cook for seven minutes on each side with the lid on.
Add the chicken stock and quinoa to a medium sauce pan. Bring to a simmer over medium/low heat. Reduce the heat to low and simmer for ten to fifteen minutes with the lid on, until all the stock has been absorbed.
After the chicken breasts have cooked all the way through, remove them from the pan and let them rest for seven minutes before slicing them.
Add the warm quinoa to a large bowl. Toss in the lime zest, lime juice, salt and pepper, and chopped cilantro. Mix to combine.
Place the flesh from an avocado along with two tablespoons of Greek yogurt in a food processor and puree until smooth.
Serve the chicken on top of the quinoa and glob some avocado heaven on top!