Blackened Chicken Alfredo
lazyme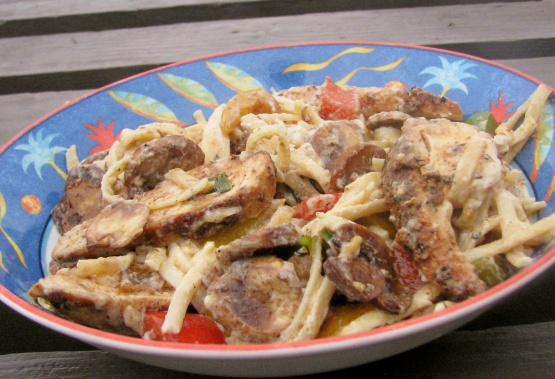 This recipe is from my Mom & Dad. Enjoy!
Pound chicken breasts with meat tenderizer; Coat both sides of breast with Cajun Spices.
Heat cast iron pan or any heavy frying pan over medium heat; Place 1/2 teaspoons butter under and 1/2 teaspoons butter on top of each breast; Cook each side for 4 minutes or until blackened; Set aside.
In hot frying pan, place 2 Tbsps. olive oil; add vegetables; saute 2 minutes; Meanwhile, slice cooked chicken breasts into long strips and add to vegetables; Add cream,remaining butter and parmesan cheese;
Stir constantly over medium heat for 2"-4" minutes.
Sauce will thicken; add salt and pepper to taste.
Toss with Penne Pasta and serve.