Blackened Catfish With Salsa Fresca With Cilantro
Thorsten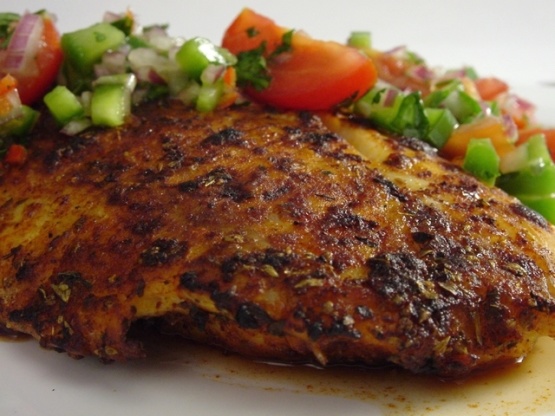 From the Cape Cod Times. This dish can be prepared and on the table in half-an-hour.

Simply GREAT. Just after my fancy: easy and fast to make and full of fantastic flavours. The recipe can be done with any firm fish (I have used tilapia this time). The outcome is wonderful. The spice mixture builds a thin blackened crust and the fish is still soft and moist. The fillet I used was about 1.5 inches and it needed just 5 minutes from each side. The salsa was spicy and next time I will make the slsa a little more "hot". The sweetness of the cherry tomatoes goes so well together with all the different spices and the green bell pepper adds a fresh and crunchy touch. Don't miss the cilantro. Together with the lime juice it will pop up each and every of the different flavours. This one is a keeper.
Preheat broiler.
On a small bowl, combine the paprika, cayenne, oregano, salt and pepper.
Place the catfish fillets on a large baking sheet in a single layer.
Lightly coat both sides of each fillet with the oil, then liberally rub the spice mixture evenly onto both sides (reserve any remaining spice that hasn't touched the fish in an airtight conatiner for future use).
Place the fish under the broiler and cook, watching closely, until slightly charred, about 5 minutes.
Turn and broil until cooked through, about 5 minutes more.
For the Salsa:.
Combine the cherry tomatoes, onion, pepper, chili, cilantro, salt, lime juice and olive oil and toss well.