Nimz1466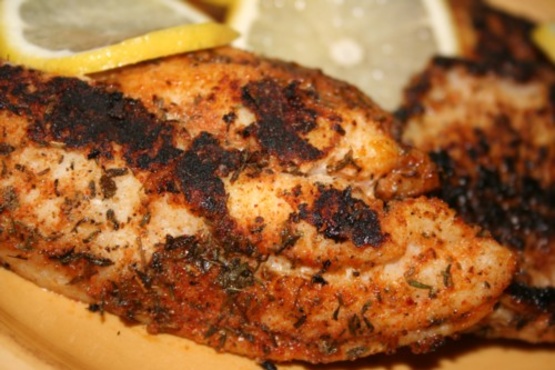 I have always been a fan of catfish. We lived in Baton Rouge, LA several years ago and I became a fan of blackened catfish. This is a wonderful recipe that is quick to fix.

I loved the flavor of this. I would have been disappointed had it not been spicy. It was just right. The only thing is that I found it difficult not to burn the outside of the fish to a crisp had I left it in the pan for the recommended time. Any suggestions on what I might be doing wrong?
Place the fish fillets in a large bowl and drizzle olive oil over them, let stand for 30 minutes.
Combine spices in a 9-inch pie plate.
Heat a cast iron skillet upside down over high heat for 5 to 10 minutes or until very hot.
Turn on vent fan during cooking to eliminate smoke.
Using a hot pad, turn pan right side up.
Remove fish fillets from oil and drain.
Dip each fillet into seasonings and coat each side evenly.
Put fillets in hot skillet and cook 2 to 3 minutes per side, turning only once.