Four and twenty blackbirds of English folklore? Nope, just a good berry pie recipe I found while surfing the net. Easy, too, as it begins with a ready-made pie crust.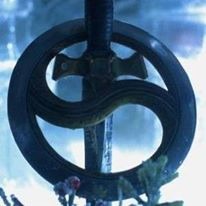 I made this recipe for the ZWT3, and it made a nice ending to our British dinner. I didn't have any blueberries, so I substituted blackberries. After all, it is a BLACKbird pie, so I thought blackberries were appropriate! Thanks for sharing the recipe.
Use the pre-made pie crust to line a 9-in pie pan.
Place blueberries and peaches in a bowl and toss with lemon juice. Add sugar, tapioca and the 1/2 tsp cinnamon and mix lightly.
Place above mixture into pie crust and sprinkle with cinnamon sugar as desired.
Bake 35-40 minutes in a 425° oven.