Blackberry, Walnut and Apple Shortcake
Posted per request for recipes using blackberries. Recipe source: Bon Appetit (June 1983)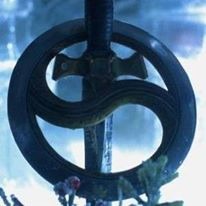 Oh my, ellie, this was good! I love the combination of the blackberries and apples together. Instead of topping with whipped cream, I served this with vanilla ice cream. It was a perfect ending to our meal. Thanks bunches for sharing the recipe!
Combine apples and juice in a large saucepan over medium heat. Cover and simmer 6-10 minutes or until apples are tender.
Drain, reserving juice and apples.
Measure 2 cups apple slices and set aside. Additional juice and apples can be used for another purpose.
Combine berries, water and preserves in medium saucepan.
Combine sugar and arrowroot powder in a small bowl and then stir into berry mixture.
Cook over medium heat nd simmer until thickened (6-10 minutes). Set aside and let cool to room temperature.
Preheat oven to 375-degrees F.
Sift together flour and baking powder in a small bowl.
In a large bowl cream butter and powdered sugar until fluffy. Add egg and vanilla. Stir in sifted dry ingredients to form a soft dough.
Divide dough into two parts, with one part being slightly larger than the other.
On a board on top of wax paper, roll the larger piece of dough out into a 12-inch circle.
Put pastry into a 9-inch pie pan.
Add reserved apples. Top with walnut halves. Pour berry mixture over walnuts.
Roll remaining dough out to a 9-inch circle.
Place over filling and press top and bottom pastry edges together to seal. Prick top over with fork.
Put pie pan on top of baking sheet in case of spill over.
Bake for 50-60 minutes or until pastry in golden and filling is bubbly.
Serve warm with whipped cream, if desired.