teresas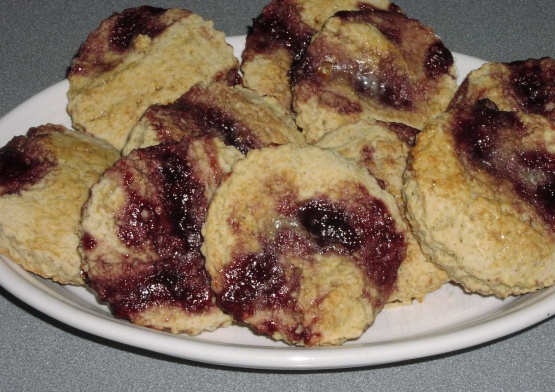 Found this in the cookbook The Duchess of York and Weight Watchers and thought that it looked yummy.

lazyme you did it again! This is an outstanding WW recipe. Both DH and I had to have one right out of the oven. They are so tasty. I did end up with 17 scones and the last 5 were on the tall side due to alot of leftover dough. I think next time, and there will be a next time, I'll use a 3-inch biscuit cutter. The jelly did leak out of some of them due to being on the cut end. No big problem other then having to clean the pan. I'm planning the freeze them for a quick breakfast during the week. I'll let you know if they freeze well. Thanks again.
Preheat the oven to 375F; lightly spray a baking sheet with nonstick cooking spray.
In a food processor, combine the oats, flour, sugar, baking powder, baking soda and salt; whirl until the oats are finely ground, about 1 minute.
Add the margarine and pulse until coarsely granular, about 40 times.
With the machine running, drizzle the buttermilk through the feed tube to form a dough.
On a floured surface, turn out the dough.
With lightly floured hands, pat it into a 10 x 8" rectangle about 1/2" thick.
With the side of your finger, make a shallow spiral-shaped furrow in the dough; fill with the fruit spread, then gently press the fruit spread into the furrow.
With a 21/2-inch biscuit or cookie cutter dipped in flour, cut out 12 scones, pushing the dough scraps together for the last.
Transfer the scones to the baking sheet and brush the tops with egg substitute.
Bake until golden, about 12 minutes.
Cool on wire racks.
Per serving: 161 CALORIES, 5 G TOTAL FAT, 1 G SATURATED FAT, 1 MG CHOLESTEROL, 452 MG SODIUM, 26 G TOTAL CARBOHYDRATE, 1 G DIETARY FIBER, 4 G PROTEIN, 120 MG CALCIUM.
POINTS PER SERVING: 3.